Established in 1993 as a direct consequence of Edgewood's designation as a Natural Preserve, the Friends of Edgewood is an all-volunteer 501(c)3 public benefit corporation funded 100% by membership dues and donations and sales proceeds. Our federal EIN (Employer Identification Number) is 94-3188191. Our key programs are year-round docent-led interpretive walks, including Junior Explorer walks for young people, strong support of habitat restoration at Edgewood led by the California Native Plant Society, and responsibility for operating the Education Center. We've also adopted a stretch of I-280 alongside Edgewood where we perform monthly trash clean-up for Caltrans.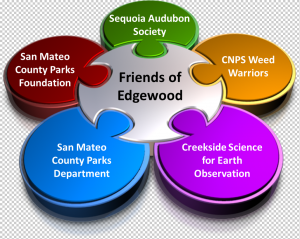 Our Partners
San Mateo County Parks Department
Edgewood County Park and Natural Preserve is managed by the San Mateo County Parks department. Click here for more information about the park, including regulations, hours of operation, etc.
San Mateo County Parks Foundation
The Parks Foundation raises funds to support projects, programs, and volunteers to benefit parks and visitors. The Foundation was responsible for the funding of the Bill and Jean Lane Education Center, and played a lead role in the building and exhibit design and construction.
California Native Plant Society
The Santa Clara Valley Chapter of CNPS supplies guidance, coordination, and, most importantly, willing hands to support the habitat restoration efforts at Edgewood.
Friends of Edgewood Natural Preserve
Friends of Edgewood Natural Preserve is a California Public Benefit Corporation 501(c)(3).
Vision
We envision restoring and preserving Edgewood's ecosystem as an exceptional habitat for native plants and animals, and providing outstanding natural history programs so that visitors of all ages can appreciate, respect, support, and be inspired by Edgewood.
Mission
The Friends of Edgewood Natural Preserve exists to protect and celebrate Edgewood as a unique treasure by promoting exemplary stewardship, and by reaching out with informative public programs.
Values
Our volunteer-driven organization believes in and fosters the values of environmental stewardship:
Respecting the beauty and diversity of Edgewood's flora and fauna
Engaging organizations and communities in preserving and restoring the ecosystem
Educating ourselves and the public about current ecological science
Kindling people's love of nature and inviting their participation and support
Advocating on behalf of Edgewood
Strategic Priorities
Our strategic priorities, as described in our Strategic Plan, are:
Restore, preserve, and protect Edgewood's natural resources
Inspire stewardship of Edgewood by offering educational and interpretive natural history programs for people of all ages
Strengthen organizational infrastructure to better support our mission
2018 Officers and Directors
Officers
President
Bill Korbholz
Vice-President
Howie Smith
Secretary
Todd Reimche
Treasurer
Angela Mallett

Elected Directors
Laurie Alexander
Sandy Bernhard
Kathy Goforth
Bill Korbholz
Kathy Korbholz
Linda Leong
Angela Mallett
John Morse
Todd Reimche
Howie Smith
If you are interested in joining the Board of Directors, contact president@friendsofedgewood.org.
Friends of Edgewood appreciates In-Kind Donations

Printing Services by UPrinting.com
Photo storage and Display by Smugmug