Voices of Edgewood, Past and Present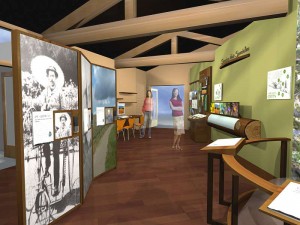 The backside of the photomural, "A Special Place," depicts portraits of key players in Edgewood's human history. Visitors use hand-held earpieces to hear oral interviews with Henry Finkler (actor), George Taylor, and a representative of the Friends of Edgewood. Each one or two-minute story reveals the significance of the land to that particular group or occupant.
The first recording is an enthused narration of the Finkler's numerous civic responsibilities, passion for high wheel cycling competitions, and intense recording and analysis of weather statistics, which would lead to Redwood City's chamber of commerce slogan, "Climate Best by Government Test."
Francis "Butch" Taylor reminisces about his family growing up on the land that would become Edgewood County Park. He describes his father-in law, Benjamin Grant Taylor and his connection to the Finklers and the land. He reflects on his experiences raising a family and assorted pets at Edgewood, and life in general in rural San Mateo County in the mid 20th century.
The third narration is an overview of the waves of fights to save Edgewood from proposed development as a subdivision, state college, series of golf courses, playground for ORVs, and park that originally lacked full legal protection as a Natural Preserve. Today, Edgewood is cared for by many groups including the County of San Mateo Department of Parks and Recreation; Friends of Edgewood; San Mateo County Parks and Recreation Foundation; Edgewood's Trail Patrol, Weed Warriors, and Volunteer Horse Patrol; Eagle Scouts and local high schools; San Mateo County Horseman's Association; and Sequoia Audubon Society. Each year, a "Best Friend of Edgewood" is honored for his or her tireless effort in improving Edgewood's ecosystems, maintaining trails, and sharing this rare resource with the visiting public.
The progression of color (sepia to black and white to full-color) provides a sense of time.